Tailored Secure Cloud Solutions
We deploy and support hybrid, public, private, IaaS, PaaS and SaaS cloud models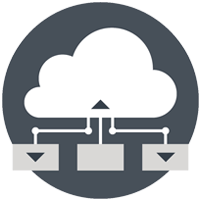 Introduction of cloud computing in the business world has presented businesses with endless opportunities of growth. Cloud computing supports the way businesses operate, especially by enabling enhanced continuity, a higher degree of mobility, higher levels of security, increased availability, avoidance of redundancy, improved fault tolerance, on demand provisioning and enhanced disaster recovery at more competitive prices. These capabilities, as enhanced by cloud computing, are factors of its nature to invest in efficiency and flexibility of business operations. Cloud computing uses less of business resources and leads to more in terms of business value.
COMPUON believes in appropriate switch over procedures from the traditional infrastructure to the cloud through the versatile cloud solutions, which is adaptable to businesses of different size and type. By doing this, we ensure that our cloud solutions maintain high standards of security, privacy, performance, different regulatory frameworks, and compliance certifications such as SSAE 16/ISAE, SAS 70, SOC 1, SOC 2 & SOC 3, ITIL, AICPA, PCI DSS, FISMA/FedRAMP and HIPAA / HITECH when required. COMPUON offers endless cloud solutions that are specific to your business needs, and will revolutionize your business beyond imagination.
Our team usually develops and implements hybrid, public, private, IaaS, PaaS and SaaS cloud models that help in keeping disruption and maintenance costs down. In addition, businesses can select optional services such as unlimited physical nodes, data redundancy, fault tolerance, disaster recovery (DRaaS) with continuous replication and cloud enabled applications, which depends on specific business needs. Flexibility to meet individual data access needs is the main element of our cloud computing solutions here at COMPUON.
Why Move To The Cloud?
Agility, fault tolerant, flexible, lower costs, scalabilty, and savings
Cloud computing is an emerging technology that is enhancing easy, secure and flexible data access among businesses in different parts of the world. Businesses use the technology to access their global data from different locations and at different times, especially due to the nature of cloud computing's reliance on the internet.
Businesses/users can create, modify and delete different amounts of virtual machines on a secure public cloud at very low cost, which enhances efficiency in the sense that businesses only pay for the virtual machines when they require them. The same technology is applicable with a private cloud, which enables continuous redeployment and optimization of dedicated cloud resources when needed, in real time. COMPUON has various strategic and technological partnerships, which provide us with the expertise and skills to develop and deploy different cloud models, as requested by clients.
Need to adopt proper business strategies of storing, protecting and managing your business's valuable assets in highly protected environments? Well, COMPUON will provide you with customized cloud computing solutions that will meet your business needs, especially through our investment in enhancing privacy, adaptability and security standards of our cloud solutions.
Save Money By Moving To The cloud
Replace capital expenditure with operational expenditure
Cloud computing has become an important element of business success in the modern world due to a number of reasons. Firstly, it allows specialization in your business in terms of focusing on the most important aspects and activities. It then follows that cloud computing uses less of business resources and leads to more in terms of business value. Increased business value is a factor of the ability of cloud solutions to enhance agility, increased productivity and improved quality of work compared with the costs of development and deployment.
Low costs of cloud computing are also supplemented with server consolidation, lower staffing requirements and lower power costs. Cloud computing often seems an 'elephant' to different business organizations but the associated benefits and value it brings to your business are justifiable. For instance, cloud computing is a way of enhancing a business' strategic alignment with emerging social trends such as environmental sustainability through low power costs. Therefore, cloud computing is the modern tool that business organizations are using to save on the costs of operation, and enhance efficiency of operations.
High Performing virtual Machines
Maximum performance without compromising flexibility, availability or security
Our cloud solutions offers our users on demand access to high performance virtual machines utilizing any combination of OS, hard disk capacity and RAM required to best fit their needs. Each one of our clients has a scalable resource pool, which can be scaled at any time as necessary. This resource pool is able to provide you with any amount or configuration of virtual machines you may require. Additionally, our public cloud is able to give you the same amount of flexibility and control that can only be found in a private cloud with other providers. All our cloud solutions are influenced by the desire to respond to your business' needs, as well as promote flexibility of operations without compromising availability or security.
COMPUON makes use of proven processes from start to finish, assessing each client's needs and goals individually in order to recommend and implement the best solutions for their needs and provides continuous service management throughout the entire duration of the business relationship. Our range of cloud solutions is a factor of our experience in the cloud technology, which enables us determine elements of traditional infrastructure that are compatible with the cloud technology. We make sure our proposed models will fit your business needs and are within your financial budgets as well as aligning tangible performance based metrics for complete accountability.
High Availability Cloud Solutions
Leveraging the scalability and flexibility of the Cloud
Our cloud infrastructure is designed based on a highly efficient decentralized and distributed architecture. Our virtual machines are able to switch from one physical server to another seamlessly whilst maintaining session performance ensuring they are always available. This helps us in avoiding downtimes and data loss, which have serious consequences on business productivity and performance financially.
Apart from the benefits of naturally high availability and data redundancy, cloud infrastructures are rapidly replacing physical servers due to their ability to be scaled relatively easily and easier administration. This should all be taken into consideration when comparing cloud solutions to others such as VPS (Virtual Private Servers) or standard non-cloud virtual machines, which lack the high levels of data redundancy and availability, associated with a cloud infrastructure.
Thanks to modern day advances of the internet and technology as a whole, businesses now have access to increased security as well as dynamic provision and scalable virtual resources at their fingertips. All it takes is one simple decision, which could ultimately prove to be the real game changer in how your business functions. COMPUON offers endless cloud solutions that are specific to your business needs, and will revolutionize your business beyond imagination.